15 Best Protein Shakers to Buy in 2022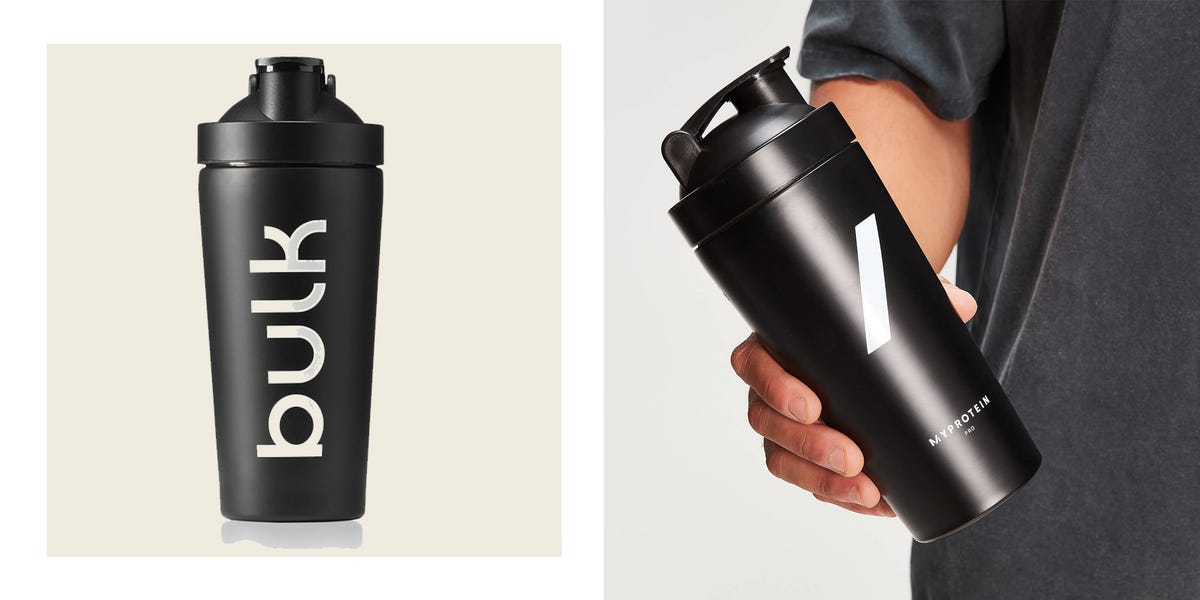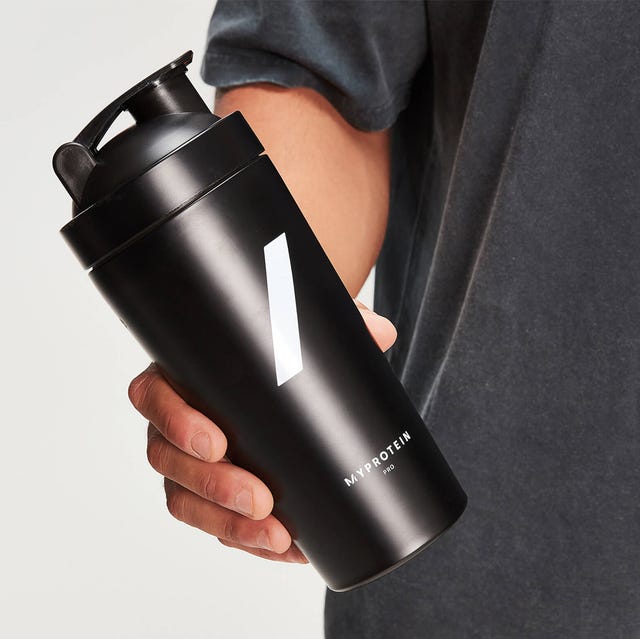 Bulk, Myprotein
There are few other items that signpost a healthy guy who's passionate about his health and fitness than a protein shaker. More than just a sippy-cup for your go-to muscle booster — whether that's whey protein or vegan protein — they're also the ideal vehicle for creatine, BCAAs, smoothies, electrolyte blends and other carb drinks and, if your container game isn't so strong, on-the-go meals like overnight oats.
Needless to say, not all protein shakers are made equally and, crucially, you deserve the best. Below, our guide to the best protein shakers does the heavy lifting for you. All you need to do is tap "add to basket". First things first…
What to Look for in a Protein Shaker
On the surface, the humble protein shaker has a few simple objectives – the lid needs to stay on, cause no leaks or spills and to be easily cleaned, whether it's five minutes or five hours after use. Similarly, brands including Myprotein, Met-RX and Bulk — to name a few — stock protein shakers that come with removable containers for other capsules such as BCAA and creatine supplements. It's a handy way of keeping all your supps in one place. Just like its shape, the protein shaker's material is another factor to consider. The vast majority of protein shakers will either be metal or plastic, with metal generally being easier to clean.
How to Clean Your Protein Shaker
As anyone with a protein shaker can attest, the stench of an unwashed shaker is a smell like no other. If left unattended even for a few hours, the leftover protein mix begins to fester and produce an unwelcome pong. As soon as you've finished your protein shake — or as quick as realistically possible — rinse, clean and rinse (again) with plenty of warm water and washing up liquid. And don't forget to show the lid some love. If it's been several hours since you've finished the shake, let the mix of warm water and washing up liquid soak in the shaker, ideally overnight, to get rid of the pong. Rush the job, however, and the smell — and subsequent aftertaste — could be there to stay.
The Best Protein Shakers to Buy in 2022
Advertisement – Continue Reading Below
1
Best Metal Protein Shaker
Pro Metal Shaker
Myprotein
myprotein.com
£11.00
Lightweight
Rubber-sealed lid
Dishwasher safe
If you're sick of plastic protein shakers — we are too — Myprotein's pro Metal Shaker, made with 100% stainless steel, is easy to clean, holds plenty of liquid and is lightweight when it's not in use.
2
Best Travel Protein Shaker
Mini Iconic™ Shaker Bottle
£10 off first purchase of £25 or more
Comes with wire ball and carry handle
Gunmetal black or ice white colourways
Light enough to go un-noticed in your gym bag but big enough to pack a full, post-workout shake, Bulk's Mini protein shaker bottle is a great space-saver with a leak-proof, dishwasher-safe design.
3
Best Protein Shaker With Attachments
Pro Large Smartshake Shaker – 800ml
Myprotein
myprotein.com
£10.00
Dishwasher Safe
Comes with Attachments
Leakproof
If you want a more modular protein shaker, Myprotein's Pro Large Smartshake shaker makes for a good purchase. It comes with a removable screw-on container to house extra scoops of protein or other supplement capsules.
Optimum Nutrition
optimumnutrition.com
£5.99
Larger than Most Protein Shakers
Dishwasher Safe
Free delivery for orders over £45
Optimum Nutrition's headline protein shaker is leakproof, lightweight and dishwasher safe.
MyProtein
myprotein.com
£5.00
MyProtein's screw-tight, leak-free lid keeps the goodness sealed in, and it's dishwasher-friendly too.
6
Best Protein Shaker for Beginners
Maximuscle Original Screw Cap Protein Shaker
Maximuscle
maximuscle.com
£4.50
Easy Pour Opening
Scew top with plastic filter
Dishwasher safe
The OG of protein shakers — it's hard to hit a workout and not see someone rocking one of these in the changing rooms. At 700ml, it's larger than standard 500ml shakers and is one of Maximuscle's best-sellers for a reason. 
7
Best Leakproof Protein Shaker
Precision Engineered Sportmixer Shaker Cup 760ml
Precision Engineered
hollandandbarrett.com
£7.49
On sale for 25% off
BPA & Phthalate free
BlenderBall® wire whisk
Despite not being a headline brand, Precision Engineered makes an impressive protein shaker, with the Precision Engineered Sportmixer protein shaker proving that you don't need to pay double digits for a decent protein shaker.
8
Met-Rx Pro-Stak Shaker Cup 500ml
Met-Rx
hollandandbarrett.com
£9.99
Durable plastic
BPA-free
Comes with BlenderBall wire whisk
With a BlenderBall wire whisk, MET-x's BlenderBottles protein shaker uses a patented mixing system to blend even the thickest mixtures without tasting last week's protein shake.
9
ShakeSphere Protein Shaker Bottle, 24oz
ShakeSphere
amazon.co.uk
£19.99
BPA free
No whisk or ball needed
Leakproof slide cap
It's a protein shaker, but not as you know it. Using a unique capsule design and a slider mechanism for the mouthpiece, ShakeSphere protein shaker makes the most of its unique design by offering a corner-free environment for easy mixing. A carry loop also makes it more portable than most protein shakers.
ROCKY&CHAO
amazon.co.uk
£13.99
Large 700ml capacity
BPA free
With a 200ml storage compartment and stainless steel mix ball, this protein shaker is loaded with four and five-star reviews on Amazon.
11
Blackube Protein Shaker
Blackube
amazon.co.uk
£29.99
Powerful 4800rpm motor
Long warranty
Oftentimes, mixing your own protein shake after a tough workout can feel like one rep too many. Blackube's protein shaker takes care of that, with an electric motor that guarantees a clump-free mix every time.
Hydra Cup
amazon.co.uk
£23.36
Two chambers for different mixes
Leakproof
If, like a lot of guys, you rely on a few supplements to bolster your nutrition game, you probably rotate between two or three protein shakers. Hydra Cup's double protein shaker flask is here to help you, with two separate chambers for different mixes. Throw pre-workout in one chamber, for example, and keep your post-workout mix separate in the other. It's a smart solution.
13
UFIT Protein Shaker Bottle
Three extra compartments
Durable and dishwasher-safe
The screw-on lid and leak-proof flip cap keep your bottle shaker where it belongs, while wire grids ensure your shake is completely smooth and free of lumps – every time.
14
PROMiXX Pro Shaker Bottle
Promixx
amazon.co.uk
£34.99
No shaking, so no lumps
Easy to clean bottle
Powerful, long-lasting battery
This electric shaker features patented X-Blade technology for the smoothest of shakes, and includes a through-flow lid so you can use your shaker bottle as a water bottle while keeping your supplements dry inside.
Wide Opening
Dishwasher Safe
BPA Free
Aimed at endurance athletes, Xendurance's protein shaker comes with a side scale to make sure you're getting the right measurements for your supps. 
This content is created and maintained by a third party, and imported onto this page to help users provide their email addresses. You may be able to find more information about this and similar content at piano.io
Advertisement – Continue Reading Below