5 Hotel Loyalty Programs That Offer Free Nights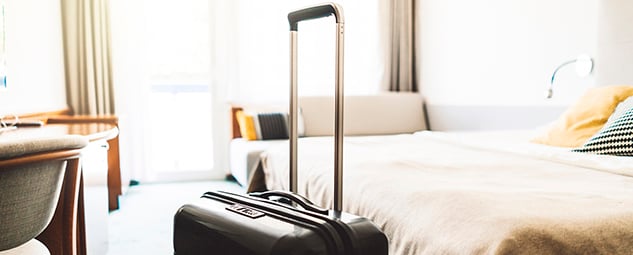 Hotel credit cards offer more than just points and useful card benefits — some can help make your travel experience memorable by extending your trip with a free night on your card account's anniversary date. If you're thinking of joining a new loyalty program and are looking for the best hotel credit card for free nights, here are the five best options:
1. Marriott Bonvoy
The product of a merger between three hotel rewards programs — Marriott Rewards, Ritz-Carlton Rewards and Starwood Preferred Guest — Marriott Bonvoy offers an annual free night award to some Marriott Bonvoy credit card users. After every card anniversary date, you'll receive an anniversary free night award. Marriott-branded cards that offer provide this anniversary benefit include the following:
The free night award is valid for a one-night hotel stay, plus taxes. However, it doesn't cover applicable resort fees.
2. IHG Rewards Club
IHG operates more than 5,000 hotels in over 100 countries, making IHG Rewards Club a strong contender when it comes to hotel loyalty programs with a wide reach. Travelers who are interested in finding the best hotel credit card for free nights can consider the IHG® Rewards Club Premier Credit Card.
As a cardholder, you'll receive a free night award after every cardmember anniversary. The anniversary free night can be used toward a standard room at an IHG property valued at up to 40,000 points.
Plan your travels ahead of time since this anniversary benefit must be redeemed and used within 12 months of receiving it.
3. World of Hyatt
Each year after your cardmember anniversary, you'll receive a complimentary night stay for a standard room at a category 1-4 Hyatt property. This benefit is not redeemable at Miraval, Hyatt Zilara or Hyatt Ziva resorts.
Cardholders can also earn a second free night after spending at least $15,000 each anniversary year. If you qualify for this card benefit, you can expect to see this additional free night in your account within two to three weeks.
4. Hilton Honors
Hilton Honors Aspire cardholders earn a free weekend night every year. The free weekend night can be applied towards a standard room on a Friday, Saturday or Sunday night.
You'll receive an email with the redemption code eight to 14 weeks after your card's anniversary date. The free night expires one year after it's issued.
5. Hotels.com Rewards
Not all travelers want to be tied down to a specific hotel loyalty program. If you prefer the flexibility of applying rewards to any hotel that can offer the best deal, the Hotels.com Rewards program is an option.
As a member, you'll earn one free night for every 10 nights you book through Hotels.com. Every one-night booking counts toward the 10 total bookings — the 10 nights don't need to be booked consecutively to earn the complimentary night.
To assess the value of your free night, Hotels.com averages the price of the 10 nights you've booked. An advantage of Hotel.com Rewards is that you can apply multiple free reward nights to the same multi-day booking.
Whether you go through a specific hotel rewards program or apply for the best hotel credit card for free nights, your hotel loyalty can help lower the cost of future hotel stays.
Frequently asked questions
To view rates and fees of the Marriott Bonvoy Brilliant™ American Express® Card, see this page.
All information about the Hilton Honors American Express Aspire Card has been collected independently by NerdWallet. The Hilton Honors American Express Aspire Card is no longer available through NerdWallet.
How to maximize your rewards
You want a travel credit card that prioritizes what's important to you. Here are our picks for the best travel credit cards of 2021, including those best for: