Best Coffee Shop POS Systems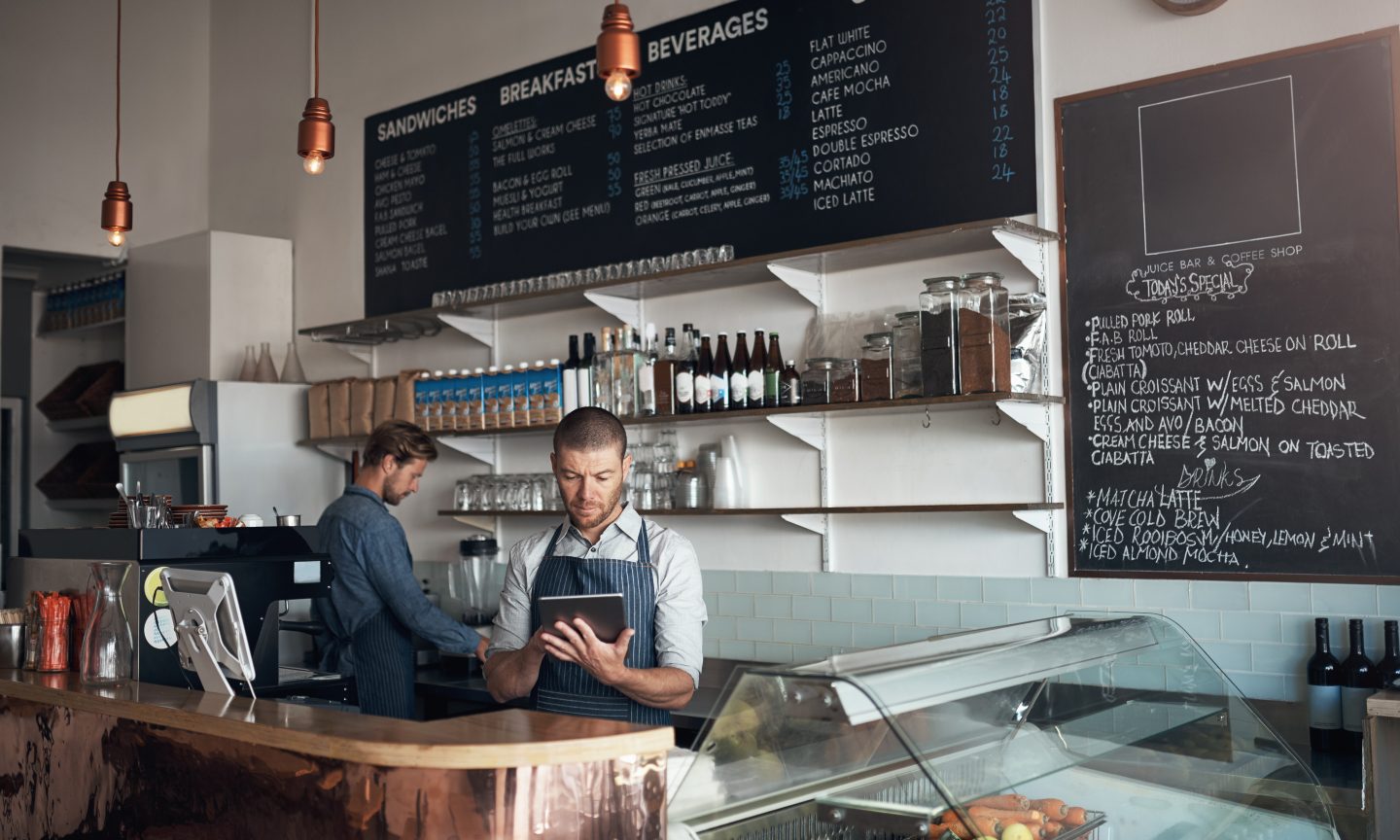 The coffee shop industry is hot right now, with a market valuation of over $45 billion and an expected annual growth rate of nearly 3%. Capitalize on America's coffee craze with these top five coffee shop POS systems for any type of coffee shop.
Accept payments without worry
See our payment provider recommendations that fit your business.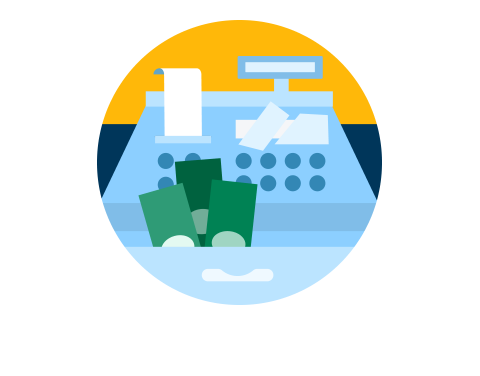 Square for Restaurants: Best all-around coffee shop POS
Don't let the name confuse you. Square for Restaurants can work just as well for coffee shops as it can for larger food service establishments. With Square you can accept all major credit cards (Visa, Mastercard, American Express, Discover) and payment methods. Square will supply new users with a magstripe card reader for free, but Bluetooth EMV and NFC card readers can be purchased for $49.
In terms of other hardware, Square for Restaurants currently only runs on iPads. You can purchase your iPad and iPad stand (with a built-in magstripe reader) directly from Square to complete your countertop POS.
Once you're up and running with Square for Restaurants, you'll have access to a variety of intuitive features designed to make managing your coffee shop easier. Square for Restaurants features a drag-and-drop menu creator, easy to understand tickets, employee time tracking and preset tip amounts.
There's also multi-location management tools, allowing you to manage all your locations from one account. What's more, Square offers add-on features like a delivery system, loyalty program and marketing tools.
In terms of cost, Square for Restaurants runs $0, $60 or $299+per month depending on the plan you choose. Square will also charge a flat rate for processing credit card transactions. This combination of price and performance makes it a solid option for any type of coffee shop.
Square Restaurant POS

ShopKeep: Best coffee shop POS for high-volume shops
ShopKeeps's POS systems are designed for merchants in the food service industry. Like Square, you can process all different types of payment with ShopKeep, and ShopKeep also offers a full range of payment features, including partial payments, open tabs, split payments, tip recommendations, refunds, discounts and the ability to print, text or email receipts.
In order to run ShopKeep's POS software, you'll need to use either an iPad or Clover POS Terminal. ShopKeep also sells POS hardware kits.
For coffee shop owners, the two kits that would most suit your needs are the restaurant kit (cash drawer, iPad enclosure, kitchen printer, receipt printer, EMV and NFC-capable credit card reader and ethernet cable) and the quick-service kit (cash drawer, iPad enclosure, receipt printer and EMV and NFC-capable credit card reader).
On their website, ShopKeep promises that their POS system will allow you to turn over orders fast and help you make the most profitable menu by identifying your top-selling items.
ShopKeep's analytics app allows you to monitor your business from a desktop or mobile device, and their integration with MailChimp helps you create email marketing campaigns. Some other notable tools include an employee time clock, scheduling interface, gift card program and multi-store management functionality.
In terms of pricing, you'll be able to choose from three software plans:
Essential: $79 per month.

Advanced: $179 per month.
All of these plans are billed on annual basis — if you opt for month-to-month pricing, each plan is a little more expensive ($20 more per month). That said, ShopKeep includes integrated payment processing with ShopKeep Payments, and you can choose between flat-rate pricing and interchange-plus pricing.
With the flat-rate pricing model, you'll pay 2.5% + $0.10 per transaction for in-person, card-present payments. With the interchange-plus model, on the other hand, you'll receive customized rates based on your business and sales volume.
Toast: Best coffee shop POS for larger shops
Toast is a leader in the food service POS space — and while it's a bit more expensive than other POS systems, it's a great option for growth-minded coffee shops. As with ShopKeep and Square, Toast is capable of accepting all forms of payments, and provides the hardware that will allow you to do so.
When you sign up to use Toast, you can pay $499 to have a Toast representative come on-site and install your POS system, as well as upload a digital version of your menu into the software. They'll then provide you and your staff with 1:1 training to help you learn how to use your new POS. After you're all set up, Toast will provide your business with free software updates every month.
Speaking of software, Toast's POS software comes with all the bells and whistles. You can select the days and times when certain menus become available, add images and descriptions and adjust pricing situationally (i.e., early-bird specials).
Toast's propriety touchscreen POS terminal (a branded Android Tablet) comes attached to a swiveling stand, allowing customers to punch-in orders themselves, thereby minimizing errors. Once an order is placed, Toast will surface a tipping prompt and notify you when an order is ready. Receipts can be printed, emailed or texted to the customer. If customers opt for a digital receipt, Toast POS will save their contact information to your database, along with their order history.
With customer information saved, you can arrange for Toast to send them customized marketing messages and promotions. On the employee management side, Toast offers user-based permissions, unique employee PIN numbers, a time clock and shift overview reports. Other perks include real-time inventory updates, a gift card and loyalty program and the ability to place purchase orders directly from the POS.
Toast offers quote-based pricing for your credit card processing rate. Your monthly subscription fee starts at $79 for one terminal, plus another $50 for every additional terminal in use.
Toast hardware can be purchased individually or as part of a bundle. Bundles start at $450 for a handheld Tablet bundle to $1,350 for a terminal bundle (which comes with a 10-inch terminal, card reader, receipt printer, cash drawer and tablet). Non-bundled hardware is sold via quote-based pricing. Additional hardware items sold by toast include user-facing kiosks and kitchen display systems.
Lightspeed for Restaurants: Most flexible coffee shop POS
Our fourth coffee shop POS system recommendation is Lightspeed for Restaurants. In addition to payment flexibility and features designed to turn orders fast, Lightspeed takes things a step further by allowing you to pick from a wide range of payment processors to integrate with your system.
Payment processors that currently work with Lightspeed include iZettle, Verifone, Yomani/Yoximo with Worldline, Dejavoo with Worldpay, Moneris, First Data, Bridgepay and Cayan.
Lightspeed for Restaurants is designed to run on an iPad. Like Square, ShopKeep and Toast, Lightspeed offers a hardware bundle that comes with everything a coffee shop owner would need: an iPad stand, receipt printer, cash drawer, Liteserver and kitchen printer. Pricing on bundles is quote-based. You can also purchase a kitchen display system and customer-facing display from Lightspeed for an additional fee.
For ordering, Lightspeed boasts a self-ordering app, allowing customers to use your POS terminal to place their order and make payment without having to go through a server. When you download the Lightspeed Self-Order Menu app, your Lightspeed Restaurant menu will automatically populate. You can customize the interface with your business's branding and pictures of menu items.
Other features include real-time stock counts, a food cost tracker, custom permissions for managers and employees, a time clock, scheduling interface, shift reports and a CRM where you can store customer payment information (with their permission) and track their payment history and favorite products.
Lightspeed Restaurant costs $69 per month for one register. Your payment processing rate is determined by your merchant acquirer.
Loyverse: Best low-cost coffee shop POS
Lastly there's Loyverse. Loyverse is entirely free to use. Loyverse is a not-for-profit enterprise and can be a big help to coffee shop owners operating on a shoestring budget.
Keep in mind that since Loyverse is free, you're not going to get all the bells and whistles that you would with the other coffee shop POS system recommendations. However, Loyverse does have software designed specifically for coffee shops, and it can work on both iOS and Android devices. For payment processing, you'll have to either use SumUp or Worldpay. SumUp will charge you a processing rate of 2.65%, while Wordplay's rate can be as high as 2.9% + $0.30.
In terms of hardware, you can purchase a variety of compatible receipt printers, barcode scanners, terminal stands, cash drawers and label printers through the Loyverse hardware marketplace. There is also a kitchen display system and customer display system on offer.
Loyverse's software features are limited, but merchants can still apply discounts, send text and email receipts, track stock counts, set employee permissions and run sales reports. And, as the name might suggest, Loyverse gives merchants a free loyalty program that allows customers to earn redeemable points on purchases.
A version of this article was first published on Fundera, a subsidiary of NerdWallet.