Best POS Systems for Bars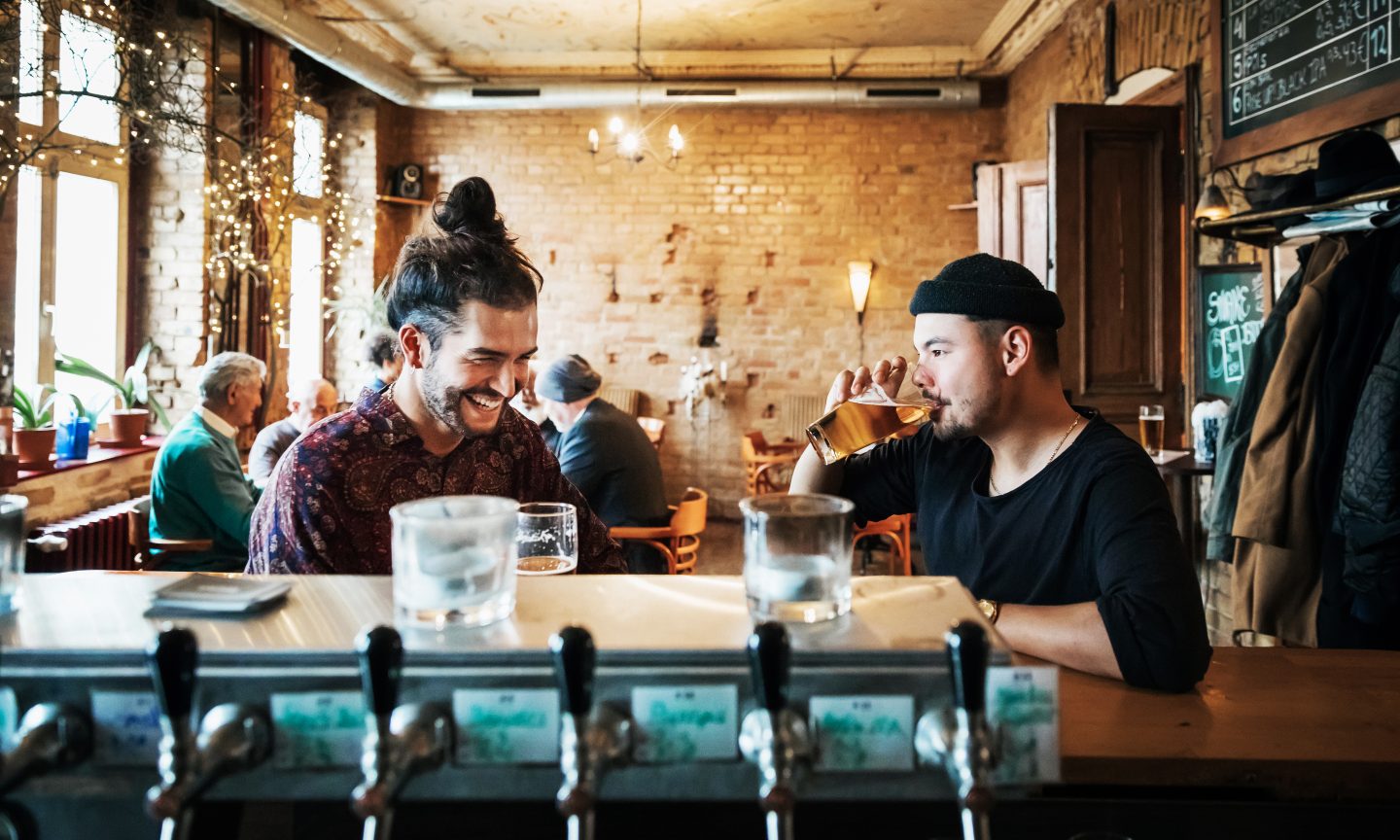 One of the most important aspects of running a bar is providing great customer service. Having a point-of-sale system suited to your bar's needs can make many of your operations tasks a cinch, allowing you to focus on providing a great experience to your customers.
The best POS systems for bars provide solutions that can work for a variety of different alcohol-serving establishments. Whether you're opening a new bar, operating a local neighborhood watering hole or running the hottest nightclub in town, here's your shortlist for the best POS systems for bars.
Square for Restaurants: Low-cost option
Don't let the name fool you; Square's restaurant version of its POS software works well for bars. But the price is the real selling point. It's a good option for smaller bars just starting out. Here's what you can expect when you sign up.
Capabilities
Order Modifiers: With every drink order, Square allows you to apply a variety of modifiers to denote if the drink is to be shaken, stirred, served dry, dirty, on the rocks and more.
Menu Cycling: Square for Restaurants allows you to create menus for different events and apply them at specific times — perfect for happy hour and other promotions.
Roles & Permissions: Through the POS you can assign roles to your staff like server and manager and determine what level of access staff have based on their role.
Interface Customization: Square for Restaurants allows you to adjust how different screens appear on your POS down to the size, order and color of the buttons.
Reports: Square for Restaurants tracks how every drink on your menu is performing to inform future menus and inventory orders.
Multi-Location Management: With Square for Restaurants you can manage all your bars from one account, allowing you to update menus, track sales and purchase inventory for all locations.
Dark Mode: Lots of bars are dimly lit. Square for Restaurants can match that vibe with its "dark mode" feature.
Integrations and Add-Ons: Square offers several tools you can integrate with your POS for an extra monthly fee, including a loyalty program and marketing and payroll software. Many additional integrations are also available through the Square app marketplace.
Support: Square provides 24/7 support via phone, live chat and email.
Square Restaurant POS

Hardware
Bar POS hardware doesn't need to get too complicated. Most bars can function with one to two terminals and a credit card processor. For bar owners, Square recommends buying its Windfall Stand Station hardware kit.
This kit comes with a Windfall Stand for your iPad, a card reader that can accept swipe, dip and contactless payments, a cash drawer, receipt printer and kitchen printer for a total cost of $1,082. Note that iPads are sold separately.
Price
Square for Restaurants is cheaper than most bar POS systems. Square for Restaurants offers a Free plan with zero monthly charges. The Plus plan is $60 per month per location plus $40 per month per added device. The Premium plan starts at $299. You also get generous credit card processing rates: 2.6% plus 10 cents per swipe, dip or contactless payment. Plus, you can use Square for Restaurants month-to-month and cancel at any time.
Toast POS: Mid-size option
Unlike Square, Toast makes POS systems directly for the foodservice industry, meaning its features are more aligned with the needs of servers and bartenders. Using Toast POS is more expensive than using Square, which is why it's best for midsize establishments or bars that are experiencing a growth period. If that's you, here's what Toast POS brings to the table (or bar).
Capabilities
Toast can do most of what Square for Restaurants can do, including multi-location management and custom roles and permissions. Where you pay extra is for the following features:
Payment pre-authorization: Instead of waiting to run a card payment when a customer closes their tab, Toast allows you to swipe and save a card on file when a customer opens their tab, then process payment later when the customer closes their tab. This can help reduce the risk of fraud and unpaid tabs.
Menu management: Along with the same promotion scheduling features offered by Square for Restaurants, Toast provides the ability to fade menu items based on inventory levels, ensuring an item will never be ordered that your bar doesn't have in stock. You can also assign ingredients to specific inventory products to see your updated stock count with every order.
Reporting: Toast POS features a multitude of reports that can provide you with insight into your bar's performance on a nightly, weekly, monthly and annual basis. You can track liquor sales over time, be notified of trends and track individual customer orders and sales history.
Employee management: Toast allows you to set employee schedules from your POS and track who has opened the cash drawer.
Integrations and add-ons: Toast offers loyalty and gift card programs that you can implement into your service for an additional monthly fee of $25 and $50 respectively. Toast POS also integrates with 50 additional third-party apps and plugins that can extend your system's functionality.
Support: Like Square, Toast offers 24/7 support by phone and allows you to file tickets through your POS for technical issues. When you first sign up, you can arrange to have a Toast representative visit your place of business to install and train you on how to use your system for a $499 fee.
Hardware
Toast POS offers individual hardware items and bundles. Bundles start at $450 for a handheld tablet bundle to $1,350 for a terminal bundle (comes with a 10-inch terminal, card reader, receipt printer, cash drawer and tablet). Individual hardware items are sold via quote-based pricing and all hardware comes with 0% financing for 36 months and a two-year warranty. Unlike Square, Toast POS is Android-based, meaning it runs on the Android operating system (i.e. you need a tablet instead of an iPad).
For bars, Toast recommends its Toast Go product — a handheld piece of hardware that acts as a mobile POS system. The Toast Go allows servers to take orders from anywhere in the bar and route them to a specific bar (e.g. upstairs bar/downstairs bar). You can also take swipe, dip and contactless forms of payment and send text receipts. Pricing on the Toast Go is quote-based and depends on how many terminals are running the Toast POS software.
Pricing
Toast POS costs $79 per month to use on one terminal. Additional terminals are each $50 more per month. For more than six terminals in a single restaurant, Toast offers quote-based pricing. If you sign up to use Toast POS software, Toast also requires you use its in-house payment processing system. Toast doesn't list what its credit card processing fees are. Instead, it says it will work with you to build a custom credit card processing rate that makes sense for your business. Generally, higher-volume merchants get lower credit card processing rates.
TouchBistro: High-volume option
One of the largest foodservice industry POS systems in the world is TouchBistro. With over 16,000 clients in more than 100 countries, TouchBistro would naturally offer a wide range of functionality for bars and lots of other types of foodservice businesses. If you're a large bar that does lots of transactions on a nightly basis, TouchBistro has tools that can make your workload more manageable.
Capabilities
TouchBistro says its bar POS is designed by bartenders for bartenders. Here's what that looks like:
Fast bar: TouchBistro's Fast Bar register mode allows bartenders to take and close orders in two taps. You can also create and switch between dozens of tabs from any iPad running the TouchBistro POS app.
Customer relationship management: TouchBistro's CRM database allows you to identify regulars, learn their drink preferences and reward them with discounts. Similar to Square and Toast, TouchBistro also offers a loyalty program. It costs an extra $49 per month.
Smart promotions: TouchBistro's menu cycling feature called Smart Promotions allows you to set pricing for various time-based events (e.g. happy hours) and track their effectiveness. You can create a variety of smart promotions and automate them when they go into effect.
Ordering: TouchBistro's ordering interface features a visual menu with images, descriptions, ingredients and preparation instructions to minimize mistakes. You can also transfer orders from a bar to a table in the dining room if customers decide to grab a drink before their meal.
Security: TouchBistro tracks the activity of all clocked-in staff so you can see who handled specific sales and who accessed the cash drawer. TouchBistro also has the roles and permissions functionality that Square and Toast offer.
Reporting: TouchBistro's reporting suite can inform you on how to make important business decisions, such as hiring more staff, running a promotion or how much inventory you should buy to maximize profits. You can also view reports from anywhere with TouchBistro's Reports-To-Go app.
Integrations and add-ons: Along with the loyalty program, TouchBistro offers a self-ordering kiosk, kitchen display system and customer-facing display. The self-ordering kiosk allows users to punch in their own drink orders at the bar using one of your terminals, and the customer-facing display allows customers to review orders after you have punched them into the POS. Pricing for both is quote-based.
Support: TouchBistro provides 24/7 phone, email and live chat support. TouchBistro also offers remote access, allowing a staff member to take control of your POS to diagnose issues. On the TouchBistro website there is a Support Center with a variety of webinars and guides.
Hardware
Like Square for Restaurants, TouchBistro can only work on iOS devices. A lot of POS hardware is compatible with TouchBistro, such as various receipt printers, cash drawers, barcode scanners, iPad stands and enclosures, routers, keyboards, monitors and ethernet ports. Depending on what hardware you need and how many terminals you plan to use in your bar, TouchBistro will provide you with a quote.
TouchBistro does not offer in-house payment processing, meaning you will need to acquire your card reader through a third-party vendor. Currently, TouchBistro integrates with Square, PayPal, Worldpay, Chase Merchant Services and a variety of other payment processors.
Price
TouchBistro offers four different pricing plans depending on how many terminals you plan to run the TouchBistro POS software on. One terminal costs $69 per month or $105 per month if you want to bundle it with the cost of your hardware. Two terminals will cost $129 per month or $209 per month for the hardware/software bundle. Three to five terminals costs $249 or $359 for the bundle, and an unlimited number of terminals costs $359 or $599 for the bundle.
Bigger bars that operate more terminals will get more value from using TouchBistro, making it a great option for high-volume merchants.
What to look for in your bar POS
Every business requires a combination of software and hardware that allows them to run transactions. A restaurant POS, for example, will want to have a good floor plan interface and an easy way to route orders to the kitchen. In your bar POS, you should look for the following:
Ease of use: Bartending is often fast-paced. Your POS system needs to be able to keep up. To that end, your POS should make it easy to punch in orders, process payments and track sales. This means having a simple and obvious UX. For larger bars, your POS should also have multi-user functionality, allowing a single terminal to be utilized by multiple employees at once.
Price scheduling: Promotions are a weekly, if not daily, occurrence at most bars. Your POS should make it easy to automate menu and price updates for events like happy hour based on a preset schedule. When the time for the promotion arrives, the POS system should automatically apply the changes and change them back when the promotion expires.
Tab management: Most bar patrons start tabs and pay in full when they are ready to leave. Your POS should make it easy to start tabs, assign orders to open tabs, transfer and combine tabs and split tabs amongst multiple customers.
Menu management: Your menu management interface doesn't need to be as complex as a restaurant's, but it should list all your drink options, their alcohol by volume (ABV), plus recipe information and preparation instructions (for the benefit of the bartender). There should also be options for generic orders like shots and basic cocktails (e.g. "gin and tonic"). Another function to look for is the ability to apply modifiers to orders to match customer demands.
Employee management: Bartenders usually work in shifts and get paid partially via tips. Therefore, your POS should allow them to clock in and out and track their tips throughout their shift. At the end of their shift, the POS should be able to reconcile tips, assign them to specific user accounts and apply them to an employee's payroll.
Inventory management: Inventory often moves fast in bars. Your POS should be able to keep track of inventory and facilitate new purchase orders when inventory is running low.
Security: Robust security measures can't hurt wherever alcohol is flowing. Your POS should allow you to assign custom permissions based on staff roles. Many modern POS systems also integrate with video surveillance systems. Some allow you to set up notifications to remind staff to check IDs or be cautious of serving someone who already has many drinks ordered on their tab.

Support: Most bars operate during non-business hours, meaning it helps to work with a POS provider that offers 24/7 support. Therefore, if something goes wrong with your system, it won't be a work stoppage issue.
A version of this article was first published on Fundera, a subsidiary of NerdWallet.