'Click to Pay' Simplifies Online Checkout With Credit Cards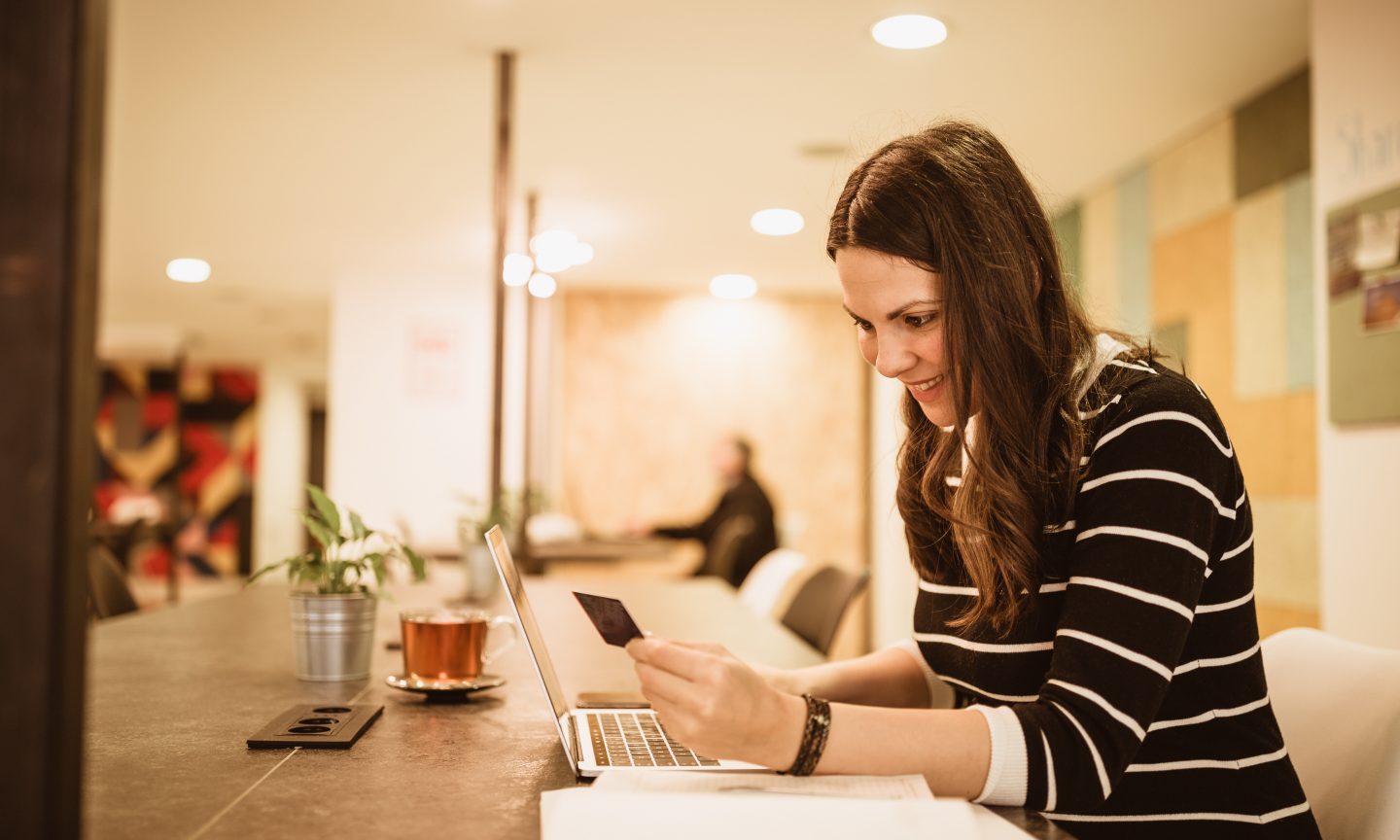 Credit card payment networks are eliminating separate secure online payment systems — such as Visa Checkout, Masterpass and Amex Express Checkout — for a unified system called "Click to Pay."
Click to Pay was created jointly by the four major payment networks:
The system attempts to streamline the online checkout process by replacing a mess of buttons for individual services with a single Click to Pay button that will give the user access to all of their saved cards, regardless of what network they're on.
Consumers can enroll through card networks by entering their information online. Then, when they're ready to check out at an online retailer that uses Click to Pay, they just select which card they want to use to make the purchase.
One button instead of many
Systems like Click to Pay are designed to make online credit card payments easier and more secure:
Instead of having to enter your card information every time you buy something, you hit a button and choose the card you want to use.

Your card information isn't stored in the merchant's computer system, so it's less vulnerable to data breaches.
Previously, when you went to complete your transaction at an online retailer, you may have seen an array of buttons for credit card payment systems, like Visa Checkout and Masterpass. Which systems were available varied by merchant. You clicked the button that corresponded to the card you wanted to use.
Now, you'll see just one button for Click to Pay, like the example below:

Click it and enter your email address (which is your account username). You'll be sent a one-time code to verify it's really you. Then, select the card of your choice to apply to the purchase. You can set Click to Pay to remember you in your browser to make future transactions faster.
Merchant systems will be transitioning to Click to Pay throughout 2020, so shoppers may see some lingering vestiges of the former individual options. Early converts include Lowe's, Marriott, Papa John's and 1-800-Flowers.com.
Add cards ahead of time or at checkout
To enroll your card in Click to Pay, you can go to the card network's website dedicated to sign-ups — for example, here's Mastercard's page, and here's the one for Visa. You can also enroll or add cards right when you're checking out with an online merchant that uses Click to Pay. Hit the button, choose the option for a new card and enter your information; it will be saved for future uses.
As of September 2020, American Express didn't have a sign-up site, but many cardholders' cards were already enrolled in the service. You can also add AmEx cards to your account during checkout. Discover launched Click to Pay for its cards in October 2020.
Shoppers can also store shipping and billing addresses in Click to Pay so they don't have to enter that information for each purchase (although they can make changes when needed).
Extra security behind the scenes
Aside from convenience, a key benefit of Click to Pay is tokenization. That means the transaction is handled with a unique code between Click to Pay and the merchant instead of the actual card number, expiration date and other information. Your card info never "leaves" the Click to Pay system, which makes it harder for your credit card number to get stolen.
"Click to Pay removes the need for merchants and service providers to store sensitive card information, therefore reducing the technology burden for merchants while also providing a more seamless user experience," says Rupa Krishnan, vice president of network solutions and operations at American Express.
Since consumers don't need to enter their information again each time they shop, the process is quicker. But free-spenders beware: That also means it's easier to spend money online without the added barrier of entering personal details.
Payment button image provided by EMV® SRC via BusinessWire.