Paychex Flex Payroll Review 2021: Benefits, Drawbacks, Alternatives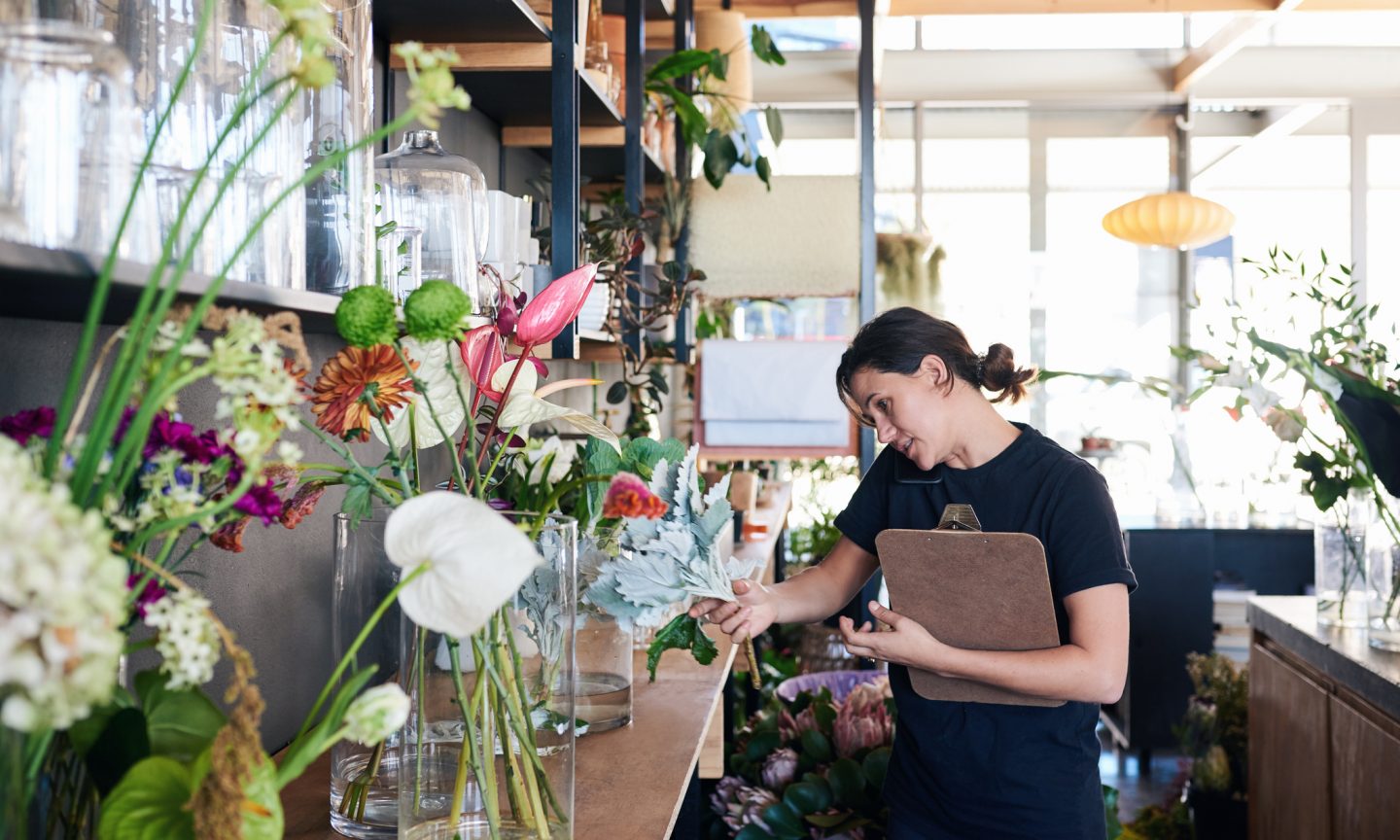 Paychex Flex, a cloud-based payroll platform from one of the most well-known names in payroll software, is a good choice for fast-growing businesses. With three plans and a broad range of add-on services, it stands out as an option that can easily scale with a company.
But its high cost can be a drawback. The basic package, Go, is more expensive than basic plans from competitors. The company also doesn't publish pricing information for the more expensive packages.
Free demo; no free trial period. Go: $39/month plus $5/person. Flex Select: Custom quote required. Flex Enterprise: Custom quote required.

Yes, federal, state and local tax filings are calculated, filed and paid on your behalf. Extra fees for end-of-year filings.

Ability to manage employee benefits

Excellent. For an additional cost, Paychex offers in-house retirement plans, health insurance, health savings accounts, or HSAs, flexible spending accounts, or FSAs, and other benefits.

Employee access to portal

Good. Through the portal, employees can view their paystubs and tax documents and get paid via direct deposit, check or prepaid card.

Excellent. Support is available by phone, chat or email, 24/7 for all tiers. Flex Select and Enterprise include a dedicated payroll specialist.

Good. Payroll setup can be time-consuming. Payroll dashboard is customizable and relatively easy to navigate.
How does Paychex Flex work?
With Paychex Go, the company's basic payroll package, you can sign up online and run payroll 24 hours after submitting the required information about your company.
For Flex Select and Enterprise, you receive a custom price quote after entering basic information about your company online. The price depends on the features, size and complexity of your business. Setup can take anywhere from a few days to a few weeks.
Once set up, the main dashboard for Flex Select and Enterprise shows a summary of details about the last payroll with a reminder for when the next payroll is due. It also includes access to standard payroll reports and the contact information for your account manager.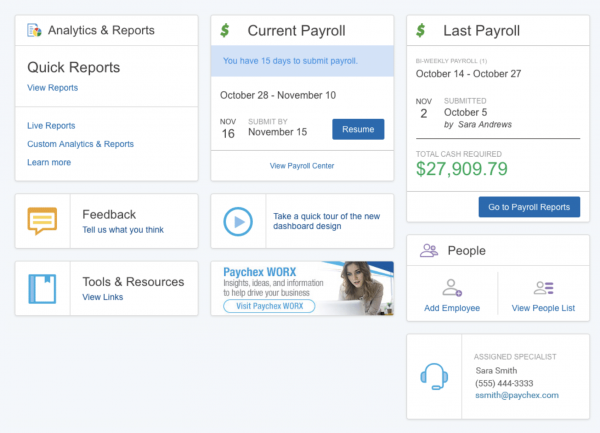 Employees can access pay stubs and tax documents through the employee portal. Flex Select and Enterprise have more employee features, such as financial wellness and training programs.
How much does Paychex Flex cost?
Paychex offers three online payroll packages: Go, Flex Select and Flex Enterprise.
Paychex Go is the only version with a fixed price. Paychex does not provide pricing information for Flex Select and Flex Enterprise, but the company says the price depends on the number of employees and how often payroll is processed (a biweekly pay schedule will cost more than a monthly one, for example).
Paychex offers add-on services you can purchase, including:
Paychex's time-tracking software, human resources software, benefits services such as retirement plans and health savings accounts, health insurance and business insurance.

An optional tax credit finder service that will look for business tax credits to save you money. The service is free; you pay only if the service finds tax credits you qualify for.

Payroll protection, which costs $99 a year. This allows you to extend the collection of payroll funds from your bank account by up to seven days without interruption of services or insufficient fund charges.
Scalable
With both Paychex Flex Select and Flex Enterprise, you can add more services and features or upgrade as your business grows. Go covers the basics, while Flex Select and Flex Enterprise layer on more reporting capabilities and HR services. Not all payroll software companies support businesses as they grow; some sharply limit the number of employees you can have on payroll.
Access to a dedicated payroll specialist
Most payroll companies offer a basic level of customer support and some provide expert help when you run into issues, but Paychex Flex Select and Enterprise provide a dedicated payroll specialist for your business from the start.
Useful reporting and HR services
Flex Select and Flex Enterprise include HR services in addition to payroll, such as an employee financial wellness program, background checks and training modules. Flex Enterprise also allows you to make customizable reports. For a growing business, these features can be a bonus.
Drawbacks of Paychex Flex
Lowest-tier plan is expensive and lacks some features
Paychex Go is relatively expensive with a base price of $39 a month, but doesn't include some of the features offered by lower-priced competitors. It offers a free demo, but no free trial period, unlike competitors such as QuickBooks Payroll and Patriot Payroll.
Paychex Go also doesn't handle garnished payments; for those services, you'd need a Paychex Flex Enterprise plan, the most expensive option. Gusto's lowest-tier plan, meanwhile, allows you to deduct garnishments and send child-support payments to all states but South Carolina.
Pricing isn't transparent
Paychex, like ADP, doesn't publish prices online; you have to get a custom quote for your business. The costs for add-on services are also hard to find online. Other options, such as QuickBooks Payroll, Gusto, Patriot Payroll and Wave Payroll, are transparent about pricing and have more information available online.
Long setups in some cases
Go can be set up in 24 hours, but higher tiers require at least 48 hours for payroll to get set up and longer for HR features, depending on the size and complexity of your business. If you need to run payroll soon after choosing a payroll provider, this could be an issue.
Alternatives to Paychex Flex
How it compares to Paychex

Rates start at $45 per month plus $4 per employee per month.

All plans offer both a free trial and access to a mobile app; Paychex Flex doesn't offer a free trial and its mobile app isn't available to those with Go, the most basic plan.

Rates start at $39 per month and $6 per person per month.

All plans support deducting garnishments and sending child-support payments to the proper agencies; only the Paychex Flex Enterprise comes with garnishment payment services.

Rates start at $59 per month plus $4 per person per month.

Higher tiers offer access to recruiting tools, unlike Paychex Flex.