SumUp vs. Square: Which Is Right for Your Business?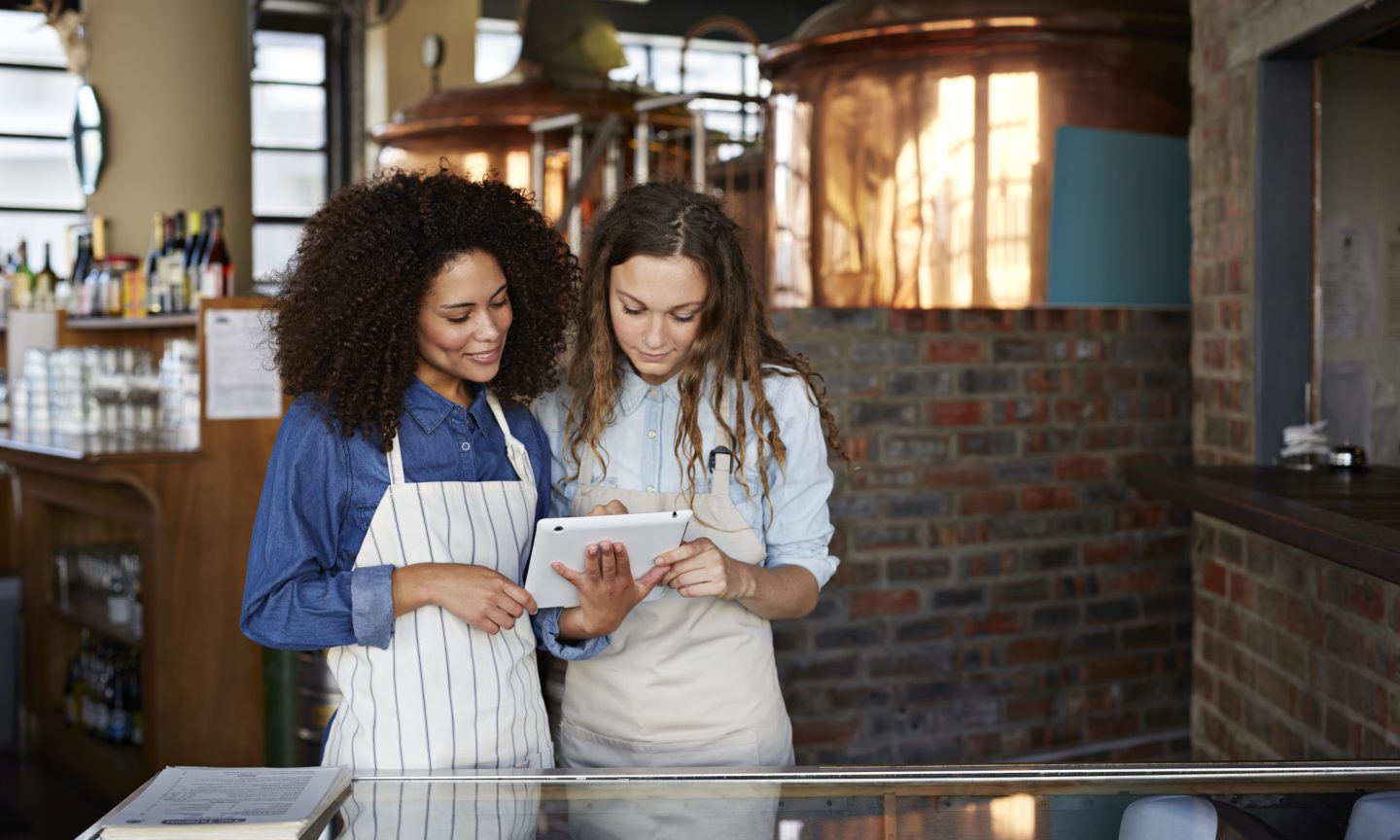 Choosing the right merchant services can be integral to the success of your small business. After all, the provider you choose will dictate how you accept payments, what types of payment you can accept and how much you have to pay in fees in order to actually process credit card payments from your customers. Although there are a multitude of merchant service providers on the market, if you're looking for a platform designed specifically for mobile use, you may find yourself comparing SumUp vs. Square.
What does each of these providers have to offer to meet your mobile point-of-sale needs — and which is right for your business? This SumUp vs. Square comparison guide is here to help answer those questions. We'll compare and contrast these POS providers — discussing both features and fees — so that you have all the information you need to make the best decision for your small business.
Overview
When it comes to comparing SumUp vs. Square, on the surface, these two mobile POS providers are very similar. Both Square and SumUp are known for their mobile payment processing, user-friendly platforms and affordable, straightforward fees.
Although much of the growth and progression of payment processing technology in the U.S. has been attributed to Square, the European-based SumUp has quickly expanded into the U.S. market to compete with players like Square and PayPal.
In fact, both SumUp and Square are payment service providers — meaning they allow you to accept credit card payments without a merchant account. Instead, they group all of their customers' funds into one merchant account and then distribute the funds to each individual business bank account — making it easier and faster to sign up for an account and start accepting payments.
Ultimately, even though Square has a wider product suite — which includes an e-commerce platform, paid restaurant and retail-specific point-of-sale systems and more — at their core, SumUp and Square are designed to serve the same purpose for small-business owners.
Therefore, to make this SumUp vs. Square evaluation fair (and most helpful to business owners), we'll focus on the original, free Square POS as it compares to the SumUp POS.
SumUp features
SumUp originated in Europe and continues to be a top POS solution in many European countries — especially considering that it's available in 30 nations outside of the U.S.
Overall, SumUp is a simple and straightforward mobile POS system that allows you to take orders, accept payments and track sales. Unlike Square, which offers a variety of software and hardware options, SumUp offers one, all-inclusive EMV terminal and a single POS software app.
SumUp hardware
According to the SumUp website, the SumUp card reader is the first fully certified EMV mobile POS system in the world to cover the entire payment process. As such, it can do the following:
Connect with any mobile tablet or smartphone via Bluetooth — including both iOS and Android devices.

Accept all major debit and credit cards, including Visa, Discover, MasterCard and American Express.

Accept international cards that display one of the four major network logos (will require the cardholder to pay a currency conversion fee).

Accept payments via tap, chip or swipe, including both Google and Apple Pay.

Process over 500 transactions on a single battery charge.
This mobile credit card reader is PCI-certified and can be charged using a micro USB cable. You can also continue to process transactions while the device charges. In addition, you have the option to purchase multiple SumUp card readers and manage all of them under one SumUp account. Finally, it's important to note that you'll need an internet connection (Wi-Fi or data coverage of 3G or higher) to process transactions using the SumUp card reader. SumUp does not accommodate offline transactions.
SumUp software
SumUp only offers one point-of-sale software option and this app can be downloaded on iOS or Android devices, including smartphones and tablets. The SumUp app connects directly to your card reader, allowing you to make and process sales. Additionally, with the SumUp POS software you can:
Accept and track cash payments.

Create, customize and manage your product catalog and inventory.

Set up and manage your tax rates.

Send customer receipts via SMS or email (as well as print them if you have a compatible printer).

View your transactions and sales history.

View and download sales, payout, monthly transaction fee, transaction and revenue reports.

Create and manage employee accounts.

Contact customer support via phone or email.
SumUp also gives you the option to accept card-not-present payments using a virtual terminal. However, you do have to apply for access to this service and not all businesses are eligible.
Square features
While Square offers a number of POS and payment processing products, we're going to focus on its original POS software and system for the sake of this comparison.
Like SumUp, Square offers a flexible and approachable way for business owners to accept and process payments, through its POS app and corresponding hardware. Unlike SumUp, however, Square is only available in a handful of countries outside the U.S.
Nevertheless, with its free POS app, Square offers a variety of hardware options, compared to SumUp's single card reader. In this way, with its additional countertop-based hardware options, Square allows business owners to operate their POS system more like a traditional register setup.
Square hardware
Square offers five different hardware options, each of which is compatible with its free POS software. Any of these hardware solutions will allow you to accept and process customer payments, including Visa, MasterCard, Discover, American Express, rewards cards and gift cards.
Hhowever, some of your specific capabilities will depend on the hardware you choose. Here are the options:
Square Reader for magstripe: This Square Reader allows you to accept swiped card payments via iOS and Android mobile devices and comes in two versions: one with a headset jack connector, one with a Lightning connector. This reader does not need to be charged and can also swipe payments without a connection using Offline Mode in the POS app.

Square Reader for contactless and chip: This reader is the most comparable to the SumUp card reader. It lets you accept chip payments, tapped payments (including Apple and Google Pay) and traditional swipe payments. The reader connects to an iOS or Android device via Bluetooth and can be charged using a Square dock or a USB cable.

Square Stand for contactless and chip: This stand is built to support an iPad and includes the Square Reader for contactless and chip (to actually accept payments) with the charging dock. The stand itself swivels for customer use and includes a security kit to secure the system to your countertop.

Square Terminal: This is an all-in-one POS hardware solution that allows you to accept all payment types and print receipts within a single device. This terminal includes a touchscreen display and requires a Wi-Fi or ethernet connection. The Square Terminal can be plugged into a power source or can be used cordlessly (with a battery that should last all day).

Square Register: This is a fully functional POS system that includes a touchscreen stand for you, as well as a second detachable customer display. The Square Register accepts all payment types and allows you to use your POS software directly within the stand. The Square Register can connect to the internet via Wi-Fi or ethernet, but doesn't currently support Bluetooth. This hardware must be plugged into a power source at all times.
Square software
Like SumUp, the basic Square POS app can be downloaded on both iOS and Android devices and used on a smartphone or tablet. The POS software can be used in conjunction with any of the Square hardware options, other than the Register, which has the software built-in. At a high level, the Square POS software can be used for everything from processing sales to tracking and managing inventory. Overall, comparing SumUp vs. Square in terms of software, the Square app is much more expansive in terms of the features it offers and the specific functionality of those included tools.
Here are some highlights of what the Square POS app can offer:
Accept payments with compatible hardware, store cards on file, send custom invoices and process refunds (including itemized refunds).

Create your menu or catalog with customization through categories and modifiers, access frequently used items, discounts or categories through item grid.

Accept swiped card payments in offline mode and enter keyed-in payments.

Provide customized text, email or print receipts with the option to have customers provide feedback from digital receipts.

Customize your checkout screen with different payment types, split multiple forms of payments in a single order, utilize custom tip amounts, create automatic discounts, add notes to orders.

Create and manage a customer directory.

View advanced analytics and reporting in the dashboard, including in-app sales reports.

Manage inventory with low stock alerts and downloadable stock reports.

Manage multiple locations through one dashboard, create unique profiles for each location, manage devices by location.

Manage your team with time clock feature, track breaks, view timecard reporting and payroll exports.

Integrate Square add-ons (with associated costs) for team management, loyalty programs, email marketing and payroll.

Connect a Square online store to your POS app.

Connect to third-party apps for delivery services, inventory management, time tracking, accounting and more.

Contact customer service via phone, email or live chat.
Ultimately, whereas the SumUp POS app provides the basic capabilities needed to take orders and accept and process payments, the Square POS app offers more detailed capabilities (such as split payments and itemized returns), as well as a greater scope of features, including both inventory and customer management, for example.
SumUp pricing
One of the benefits of both SumUp and Square is their straightforward pricing structures and lack of hidden or unnecessary fees.
SumUp allows you to sign up for a free account and doesn't charge any monthly fees for use of its POS app. In addition, you can use SumUp on a month-to-month basis with no contract required and no cancellation fees for terminating your account. SumUp does not charge for declined payments or cash payments, but chargebacks will incur a $10 fee per incident.
On the whole, there are two costs you'll pay to use SumUp. First, you'll pay for the cost of the card reader — which is $19, plus taxes. If you want to purchase additional card readers, you'll pay an additional $19 per reader.
Next, you'll pay credit card processing fees. SumUp charges a flat 2.65% rate per card payment. There are no differences in rate based on the type of card or how the card is accepted. The only different transaction fee you'll pay is for use of the virtual terminal. Payments accepted through the virtual terminal will incur a fee of 2.95% + $0.15 per transaction.
It's important to note that payouts (your funds minus their fees) from SumUp usually take one to two business days. SumUp also allows you to determine the frequency of your payouts, either daily, weekly or monthly.
In order to use SumUp, then, you'll need to have a compatible iOS or Android device. Plus, if you want to print receipts or add a cash drawer to your system, you'll need to purchase those devices separately as well.
Square pricing
You can sign up for a free Square account and download the POS software at no cost. Like SumUp, there are no monthly fees for use of this software, as well as no contract obligations and no cancellation fees.
In addition, Square doesn't charge for startup, authorization, statements, refunds, PCI compliance, business cards or any similar fees. Moreover, unlike SumUp, Square does not charge for chargebacks or dispute management.
Although we're only discussing the free Square POS software, it is worth mentioning that Square does offer additional software options for monthly costs, like Square for Retail and Square for Restaurants, as well as add-on products like Square loyalty, marketing and payroll.
With the basic Square POS app, the two major costs you'll incur are hardware costs and transaction fees. First, in terms of hardware, the cost will depend on which of the following options you select:
Square Reader for magstripe: This reader is included for free when you sign up for your Square account. Each additional reader is $10.

Square Reader for contactless and chip: $49.

Square Stand for contactless and chip: $199.
As with SumUp, you'll need an iOS or Android device to use the Square app in conjunction with the hardware you choose (other than the Register). You'll also have the option to add printers, scanners, cash drawers and other accessories — each of which will have an associated cost. In this vein, however, Square does offer bundled hardware packages through its website.
In terms of Square fees, the per-transaction rate you'll pay will depend on how the payment is accepted. Like SumUp, Square charges flat-rate fees that don't vary based on the credit card network.
You'll pay 2.6% + $0.10 for any transaction that is:
A swiped or inserted chip card.

Made with a contactless payment.

Made with a prepaid gift card.

Swiped using the virtual terminal.
Next, you'll pay 3.5% + $0.15 for any transaction that is:
Made using a card on file.

Manually entered using the virtual terminal.
Finally, if you use Square invoices or any e-commerce product, your fees on those transactions will be 2.9% + $0.30.
Like SumUp, Square lets you customize your payout schedule. Generally, all new accounts will be set up on a standard schedule, which consists of a transfer within 36 hours or one to two business days of a transaction. You will, however, be able to change your schedule to a custom close-of-day time (so that your transfer occurs after your business is closed) or a manual transfer schedule. In the case of a manual schedule, you'll initiate the transfer yourself and you'll receive your funds within the next business day.
Additionally, Square offers a free business debit card option that allows you to receive your Square balance on that card automatically. Finally, Square also offers instant and same-day transfers, but these will each come with a 1.5% fee per transfer.
Although Square's lack of a chargeback fee is notable, SumUp stands out with its low-cost credit card reader and affordable and simple transaction fees. Even though SumUp and Square do have very competitive transaction fees, SumUp's simple percentage rate (2.65% as opposed to 2.6% + $0.10) is generally more desirable, especially to businesses with a high transaction volume but low average transaction value, like coffee shops or convenience stores.
SumUp vs. Square: The benefits of SumUp
Pricing
SumUp and Square both offer extremely competitive pricing — especially as neither provider charges monthly or extraneous fees. Nevertheless, with a flat, simple rate of 2.65%, SumUp's pricing is slightly better than Square's.
First, this rate is much more desirable for businesses with high transaction volumes, but lower average transaction value, who would face more fees with Square's pricing structure. Additionally, even though SumUp doesn't offer some of the invoicing, keyed-in and e-commerce options that Square does (and for which they charge different fees), for businesses that don't necessarily require those options, it's beneficial to only have one rate to worry about.
Plus, SumUp does offer virtual terminal capabilities upon request, and this rate, 2.95% + $0.15 per transaction, is lower than most competitors.
Card reader
The all-in-one card reader is a huge selling point of SumUp. Although SumUp doesn't offer the variety of POS terminal options that Square does, its single card reader is much more inclusive (and affordable) than any of the Square options.
With one reader, you can accept payments in any method (chip, swipe, contactless) and the reader itself only costs $19. In comparison, to accept contactless and chip payments with Square, you'll need at least the contactless and chip reader, which costs $49.
Plus, not only can you accept international credit cards with the SumUp card reader, but the service is also much more widely available outside of the U.S. compared to Square — serving a total of 31 countries.
SumUp vs. Square: The benefits of Square
Robust POS software
When it comes down to it, Square offers one of the most feature-rich free POS software systems on the market. Within a single app, Square provides a full-service point of sale system that allows you to manage almost every aspect of your daily operations. Compared to SumUp, which only offers basic features, Square includes more detailed capabilities, such as custom tips, offline mode, and keyed-in payments, automatic discounts, order notes and more.
In addition, Square simply provides a greater range of capabilities within its platform. You can manage your inventory, team, and customers all within the app — at no additional cost. SumUp, meanwhile, doesn't offer any of these features beyond simple employee accounts. So, if you're looking to do more with your POS system, Square definitely wins out over SumUp.
Variety of options
The variety of options Square offers goes hand-in-hand with their robust POS software. First, although SumUp's single card reader is more desirable, Square offers five different hardware options — which means that businesses of all sizes and shapes are more likely to find something that works for them, especially if they're looking for a more traditional countertop setup.
Along these lines, with the different POS hardware options, Square can also accommodate a much greater variety of accessories — printers, scanners, cash drawers, scales, etc. compared to SumUp.
Moreover, within its software, Square can accommodate a variety of integrations, including internal add-ons and third-party tools, so that business owners can access products they already use within the Square system, as well as add services they're willing to pay for. In this way, once again, Square allows you to manage everything in one place and truly excels in its breadth of functionality for small-business owners.
How to decide which is right for you
All things considered, it seems that SumUp is best-suited for smaller businesses with simple needs. As an example, if you're a contracted photographer who offers flat-rate priced packages for specific jobs, SumUp will give you a quick and easy way to accept credit card payments from your customers and view your sales without a range of additional features or hardware that you don't need. Similarly, if you run a small brick-and-mortar shop with a limited inventory and only a few employees, it's very possible that SumUp will work well for you.
Square, on the other hand, is probably best-suited for larger and growing businesses, especially those within the food, beverage and retail industries. Between its different hardware options and feature-rich software, the Square POS can more fully accommodate the needs of these types of businesses. Plus, as your business grows, you can explore some of the paid software options Square offers, like Square for Retail and Square for Restaurants.
It's useful to make a list of exactly what your business is looking for and compare it to the features and pricing SumUp and Square have to offer. At the end of the day, although SumUp and Square have their differences, there's no doubt that either processor can provide an efficient and affordable way to accept payments and manage your daily business operations.
This article originally appeared on Fundera, a subsidiary of NerdWallet.