The Guide to Alaska Airlines First Class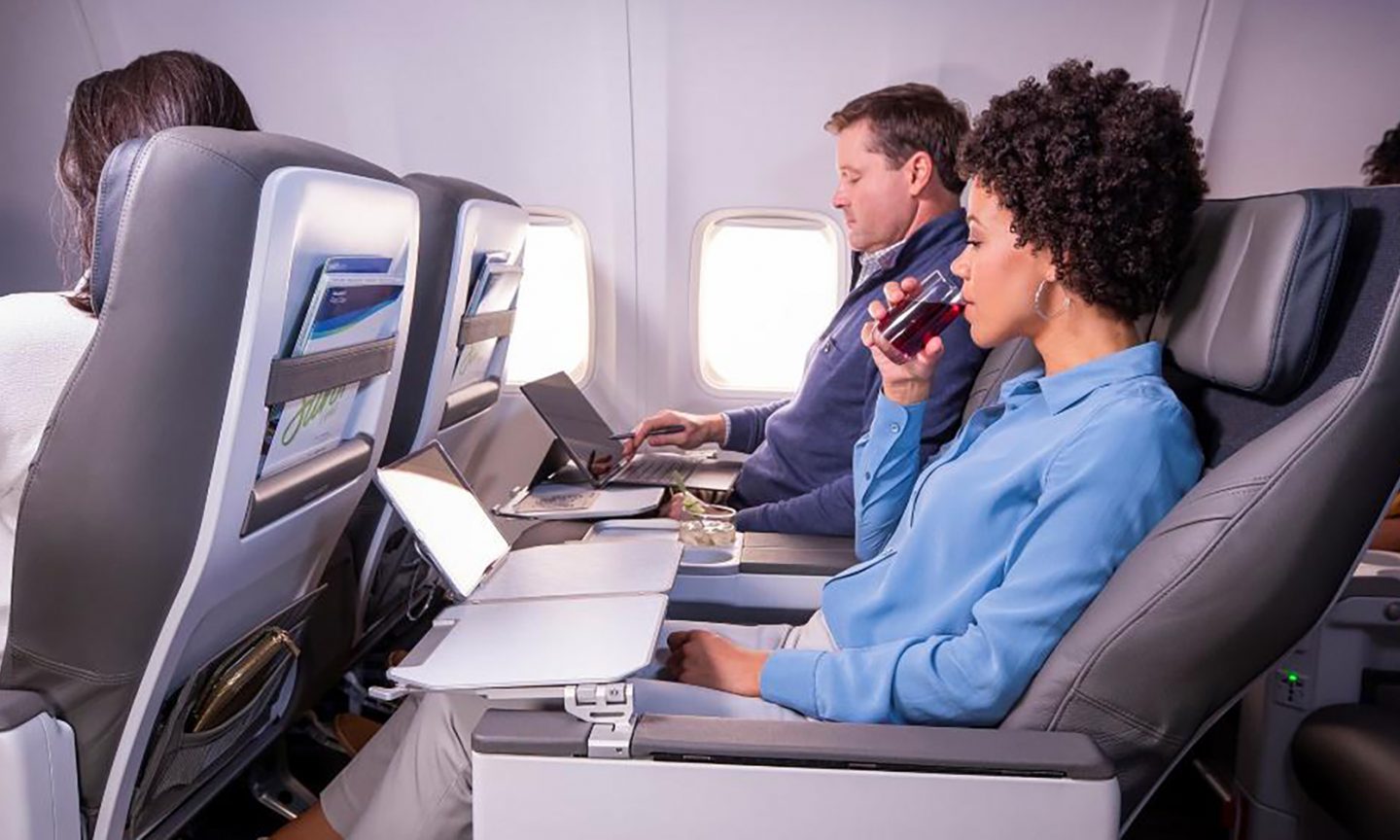 If you don't live on the West Coast or frequent it often, you would think that Alaska Airlines is a small regional airline based out of Anchorage. However, those of us in the know can tell you it's anything but. With an ever-expanding route network, chances are you will be seeing an Alaska Airlines flight coming to a city near you.
While Alaska's first class cabin may not be the most aspirational in the market yet, there are plenty of ways to find yourself seated up front.
What to expect on board
Fleet
With a "proudly all Boeing" fleet of 166 Boeing 737s, but also 71 planes in the Airbus A320 family (inherited from the Virgin America merger), 32 Bombardier Q400s and 62 Embraer 175s, you will have plenty of opportunities to come across a first class cabin in an Alaska Airlines plane. That is, unless you're flying on one of their Bombardier Q400 prop planes, usually flown to and from smaller, regional airports in the Pacific Northwest. Other than that, all other aircraft are equipped with eight to 16 first class seats in the forward cabin.
Seats
In early 2019, Alaska announced a new cabin retrofit to over a third of its mainline planes (Airbus and Boeing 737) by early 2020. This rollout would include new Recaro seats that are more modern in look with a sculpted design and made with memory foam. The distance between rows on these new seats is 40 inches of space to properly stretch your legs, regardless of how tall (or short) you are. In order to bring the cabins forward into this century, tablet holders are in place for electronic devices to open up space on the retractable tray, and USB and 110V power outlets are in every seat in this cabin. Cup holders were installed to prevent the all too frequent coffee or drink spills by many like me who attempt, unsuccessfully, to multitask while 30,000 feet in the air.
In a nod to good old Virgin America planes, cabins now have mood lighting with "calming, cool, blue hues" that, according to experts, complement the human body's circadian rhythm. More importantly, a new and advanced high-speed satellite Wi-Fi by Gogo provides a much less dial-up feeling when compared to previous out-of-date, frustrating technology.
Unfortunately, this much-needed cabin refresh is not fully rolled out to the complete fleet, so encountering these beautiful new modern interiors is hit or miss.
Entertainment
Neither the old cabins nor the ones being retrofitted right now have an in-seat entertainment system. Instead, Alaska relies on its Alaska Beyond entertainment system. Passengers can stream a whole host of TV shows or movies straight into their own devices.
First class passengers on very few select flights are provided with Alaska's in-flight entertainment tablets, where they will have access to similar content, while at the same time leaving their personal devices freed up for other uses.
Routes where you can find these entertainment tablets include all flights to and from Hawaii, Boston, Baltimore, Washington, DC, New York, Philadelphia, Fort Lauderdale, Orlando and Tampa. For all other flights with Wi-Fi service, bring your own device, and for all other flights without Wi-Fi, bring a book or be ready to stare at the bulkhead.
Lounge access
All flights purchased in first class will grant you access to the Alaska Airlines network of lounges at airports, even if you purchased your ticket as a mileage award redemption. If you were upgraded to first class, however, you will not be given access. There are currently seven lounges, all of them on West Coast airports with the exception of the one at NY-JFK. If you are traveling through Seattle, I'd recommend stopping by either the lounge at Concourse C or the one in the North Satellite, which are new, modern and spacious.
Booking cash tickets
When you book directly on Alaska's website, you will be shown the cost for all classes of service in a chart. That way, you can see the exact price difference between that coveted first class seat and economy, and it's always worth paying attention as, on some of Alaska's routes, the price differential is minimal, and the benefits are obviously worth it. The phone app will show the exact same information.

Booking award tickets
Depending on the distance flown, a mileage redemption ticket in first class can cost between 15,000 and 70,000 Alaska Airlines Mileage Plan miles each way. As award space is always subject to availability, Alaska has a dynamic pricing model to their award tickets. That way, more popular routes are more likely to cost more miles than those less so.
Hop: Trips under 700 miles, which cost between 15,000 to 40,000 miles.
Skip: Trips between 701 and 1,400 miles, which cost between 25,000 to 60,000 miles.
Jump: Trips between 1,401 and 2,100 miles, which cost between 25,000 to 60,000 miles.
Leap: Trips longer than 2,101 miles, which cost 30,000 to 70,000 miles.
As you can see, when it comes to first class tickets, there is no difference in pricing between a Skip and a Jump, which means Alaska's Jumps are one of their sweet spots in first class.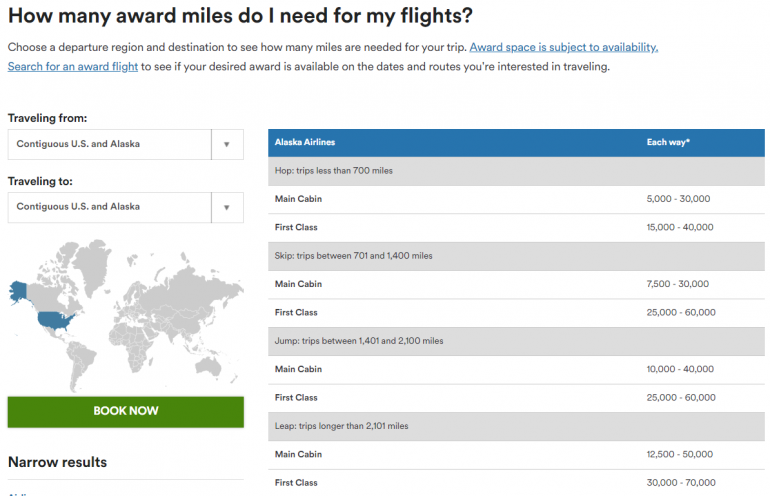 Transfer from Marriott
Marriott Bonvoy points transfer to Alaska at a 3:1 ratio. When you transfer 60,000 Bonvoy points, you will be given a 5,000 mile bonus courtesy of Marriott. That means transferring 60,000 points will get you 25,000 Alaska Mileage Plan miles.
Buying Miles
Alaska runs sales rather frequently, but if you need miles at any time, you can purchase up to 150,000 miles every calendar year. Alaska Mileage Plan elite members (MVP, MVP Gold and MVP Gold 75K) are not subject to this limitation.
The sticker price for 60,000 miles is $1,773.75. As usual, I would never recommend buying miles speculatively, as it is not a good value, but it is an option if you need to top off your account to have enough miles for that redemption you have in mind.
For reference, if you were to buy 15,000 miles to redeem for the cheapest first class ticket that can be redeemed, it would cost you $443.44. In my previous example of a flight between Seattle and Salt Lake City, buying that ticket in first class outright would cost you only $149. This goes to show that just because you have the miles, it doesn't mean it's always a good value to redeem them when you consider the cost of actually earning – or buying – the miles.
Photo courtesy of Alaska Airlines.
Frequently asked questions
How to maximize your rewards
You want a travel credit card that prioritizes what's important to you. Here are our picks for the best travel credit cards of 2021, including those best for: