The Guide to Lufthansa Airlines Economy Class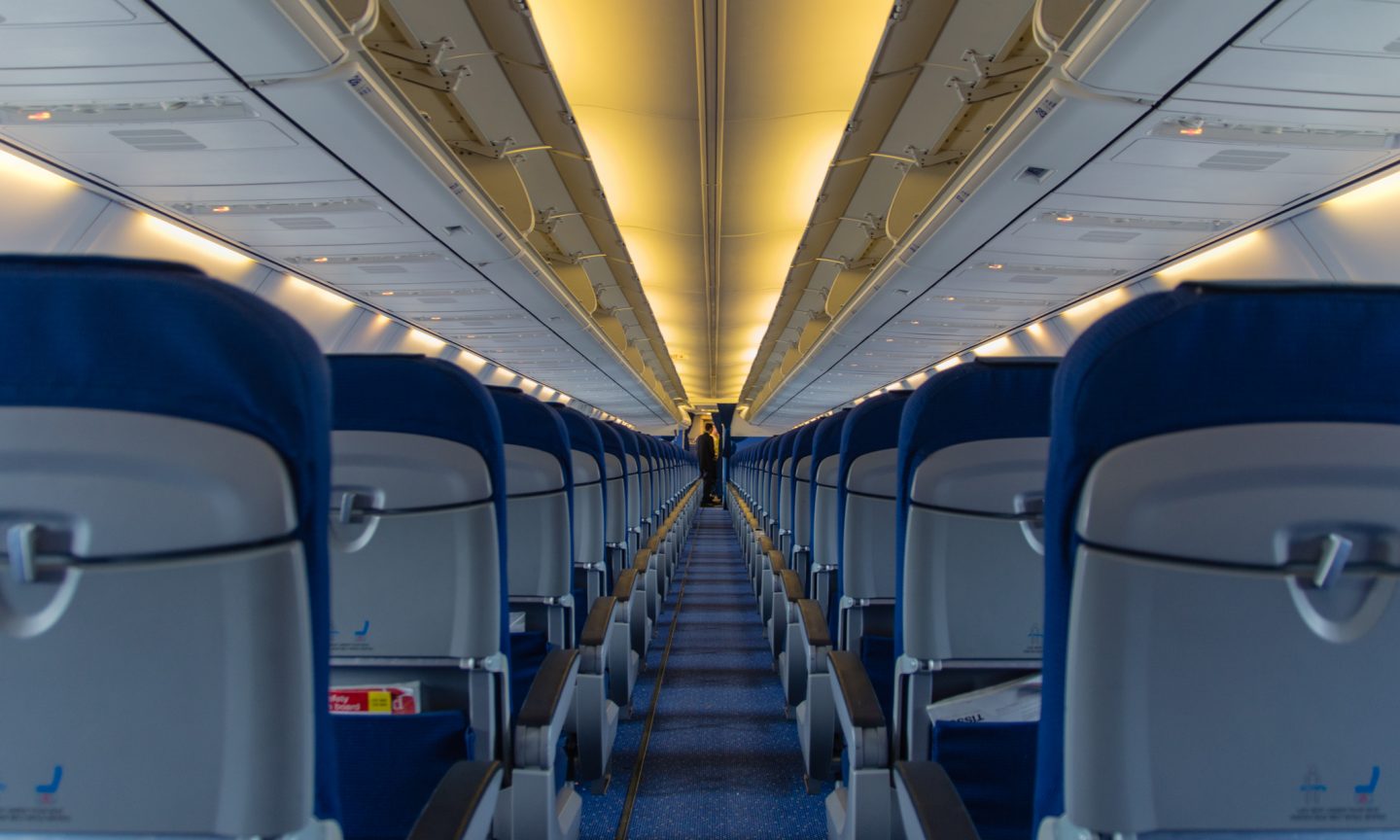 If you're searching for flights from North America to Germany — or to lots of other European destinations, for that matter — chances are your options will include Lufthansa Airlines. It's the biggest carrier in Germany and, along with its partners Austrian, Swiss, Brussels and Eurowings airlines, the second-largest airline in all of Europe. Lufthansa is also part of the 26-member Star Alliance, meaning you can use miles in partner programs like United Airlines MileagePlus or Air Canada Aeroplan to book Lufthansa flights.
With so many choices for economy class flights to international destinations, it is useful to know what to expect before you book. Here are the basics of Lufthansa Airlines' economy class to help you decide whether this is the airline you want to fly.
Lufthansa economy vs. economy light fares
In recent years, airlines have been rolling out a ticket type that's even more economical than economy. United, Delta and American Airlines call it basic economy. Lufthansa calls their low-cost long-haul ticket class economy light, and it works similarly to most other airlines' ultra-low-fare options: less free baggage, limited or no seat selection, and less overall flexibility for your ticket.
Most notably, the lower ticket price comes with a high risk of getting stuck in a middle seat, possibly separated from your travel companions. On a trans-Atlantic flight, that's a pretty unpleasant prospect, making the next level — economy class — far more appealing.
What's included in economy
In-flight food
If you're flying a long-haul flight in Lufthansa Airlines' economy class, expect a three-course meal, along with free snacks, free soft drinks and alcoholic beverages for purchase. Depending on your long-haul flight length, even more food, like a second meal, may be offered.
Free checked bag
Unless you booked an economy light fare, you'll be able to check a bag for free, in addition to your free carry-on and personal item. Check Lufthansa's baggage calculator for your exact flight to be sure.
Average seats
Technically, Lufthansa's main cabin seats are pretty average: On a Boeing 747-8 Intercontinental aircraft that Lufthansa flies from Chicago to Frankfurt, you get a typical seat width of about 17.1 inches and a decent 31-inch seat pitch — the distance from the back of your seat to the back of the seat in front of you. But the experience is slightly better than the numbers suggest. The seat backs have a "slim" construction, so you get a little more of that 31 inches to stretch your legs.
That's nice, but if you can afford a splurge on an extra legroom seat in premium economy, do. On the same Boeing 747-8, those seats offer a roomier 19 inches in width, an impressive 38 inches of pitch and greater recline.
Lufthansa also offers an unusual way to make your flight more comfortable: Pay to keep the middle seat next to you empty. For about $42 (35 euros), you can — in certain cases, like continental routes — block off a middle seat next to yours, sparing you some awkward elbow wrestling for space on the armrest and giving you a little more room to stretch out and breathe.
Can I choose my seat in Lufthansa Economy class?
Top-tier elites in Lufthansa's Miles & More frequent flyer program, known as HON Circle members, can choose their seats in economy in advance for free, as can any travelers flying on a ticket booked with miles. Most everyone else must either wait until check-in (23 hours before departure) or pay for advance seat selection.
Depending on the distance flown, choosing your standard seat more than 23 hours in advance costs between $14 and $42 each way (12-35 euros). Standard seats in a preferred seating zone cost $20-$66 (17 to 55 euros), while extra legroom seats start at around $30 (25 euros) and run up to around $132 (110 euros) for longer flights.
Booking award flights
About the Miles & More frequent flyer program
Lufthansa's Miles & More frequent flyer program offers you a chance to earn miles redeemable for award tickets by flying Lufthansa or its partners, or by booking hotels, rental cars and vacations through the Miles & More website. You can earn miles even faster using the Lufthansa Miles & More Credit Card.
So you're limited in the number of ways you can build up a balance in your Lufthansa Miles & More account.
But, because Lufthansa has so many partnerships, you have plenty of opportunities to use other programs' miles or points to book flights on Lufthansa. The difference is you book through the other airline's website.
How to get the best deal for a Lufthansa economy award flight
Because Lufthansa has no transfer partners, you don't have as many options for comparison shopping as you do with other airlines. That is, a traveler with a stack of Chase Ultimate Rewards® points can compare the cost of their flight on all of Chase's transfer partners to find the best deal.
But to book an award flight with Lufthansa, you need to either have the miles in your Lufthsansa frequent flyer account or you need to have miles or points with a partner, like fellow Star Alliance-member United, then book directly through that partner's website. In the rare circumstance you have both, it can't hurt to compare.
First, search for your date and destination at the Miles & More website, where you might find a Chicago-to-Frankfurt flight in May for 30,000 Miles & More miles each way on either Lufthansa or United.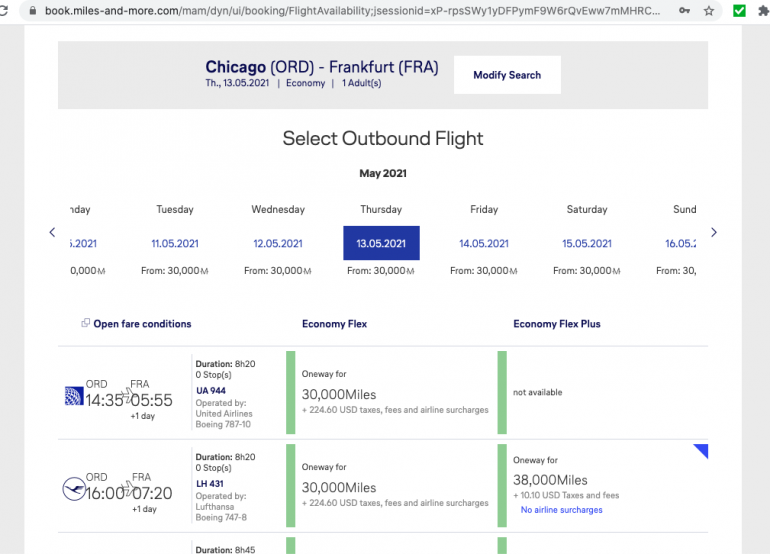 Then, try the same dates and destination through United's website, which in this case shows Chicago-to-Frankfurt flights on either Lufthansa or United also starting at around 30,000 United MileagePlus miles each way.
Often, the costs will be similar. So you can make your choice based on variables like flight times and seat sizes. But depending on your dates and destination, you could find deals, too.
The bottom line
Lufthansa Economy class can be a great way to get to Europe or beyond on a budget. You get a smidge more legroom than you would on many other airlines, plus a free checked bag, meals and snacks, and both free and paid options for choosing your seat in advance. Without transfer partners, the airline's frequent flyer program, Miles & More, makes it hard to earn miles for award travel through any means other than flying.
But if you collect miles in any of Lufthansa's dozens of partner programs — including United, Swiss and Air Canada — you can redeem them for an economy class seat on Lufthansa directly through that partner airline's website.
How to maximize your rewards
You want a travel credit card that prioritizes what's important to you. Here are our picks for the best travel credit cards of 2021, including those best for: